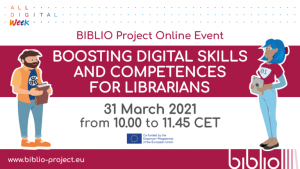 The DAISSy Research Group of the Hellenic Open University (HOU) joins the ALL DIGITAL WEEK 2021 in the event scheduled in the framework of the European project "Boosting Digital Skills and Competences of Librarians – BIBLIO".
Specifically, on behalf of the BIBLIO project Consortium, DAISSy is excited to invite you to the International Event entitled "Boosting Digital Skills and Competences of Librarians". DAISSy actively supports this event and participates by delivering a speech on "The BIBLIO Massive Open Online Course (MOOC) for Library professionals".
Join the BIBLIO event on 31 March 2021 at 10:00'-11:45' CET to learn more about:
 Digital Facilitator and Digital Communicator in Expanded Endless Libraries
 Librarianship in Europe: Mapping professional needs
 Who are CECO and DIGY?
 Professional qualification of Librarians beyond the pandemic
 BIBLIO Curriculum and Methodology
Learn more about the event and register here .
The event is part of the All Digital Week 2021 campaign! The BIBLIO project is funded by the ERASMUS+ Programme of the European Union under grant agreement 612411-EPP-1-2019-1-IT-EPPKA2-SSA, it is implemented in Greece by the DAISSy Research Group of the HOU and actively supported by the Distance Library and Information Centre of the HOU as a main Associate.