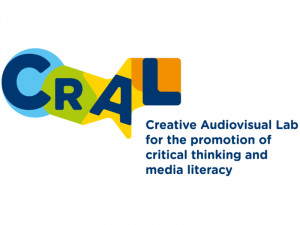 The DAISSy Reserach Group of the Hellenic Open University (HOU) and the whole CrAL project team, working during this period on the localization of the innovative CrAL methodology, look forward to moving on to the next step. The CrAL MOOC will be soon available on the CrAL platform, which is developed by the DAISSy Research Group of HOU, the Greek partner of the project.
CrAL is aiming to promote media literacy, critical thinking and active citizenship among the teenagers (14-19 years old) of the participating European countries.
Nowadays, Media literacy is considered as one of the most important skills. The importance of media literacy was underlined by the Greek Pedagogical Institute since 1995-2004, when an initial focus on the Audiovisual Expression in a Laboratory by the well-known Program "MELINA – Education and culture", resulted to a "Teacher's Guide for Audiovisual Expression". It was a Pedagogical Institute's first initiative to form a Greek Curriculum included a series of suggestions for activities that step by step promotes audiovisual consciousness of those who practice them.
As we are waiting for the CrAL MOOC and the implementation of Creative Audiovisual Literacy methodology in Secondary schools, lets see what "media" is and why "media literacy" becomes an evident nessesity nowadays for the worldwide democracy.
McLuhan had predicticted long time ago that "media is the message". He focused on analysing the form in which the content is delivered to us by the media. He argues that, since the "medium is the message", if we don't understand the medium we don't understand the message either. The form informs our "identities", the way we perceive ourselves, and as the form changes to the current digital media,  our perception of the world and of ourselves is also shaped by this fast growing shift. The following EAVI's video presents McLuhan's theory in a very thorough and descriptive way.
https://eavi.eu/marshall-mcluhan-digital-prophecies-the-medium-is-the-message/
In addition, the Following EAVI's video clip "A Journey to Media Literacy", a 7-minute cartoon, will also offer us, in a fun and simple way, what Media Literacy is all about, and why it is essential in order to live freely and participate fully in society.