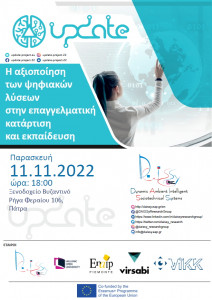 The DAISSy research group of the Hellenic Open University invites you to participate in the info day entitled "The use of digital solutions in vocational training and education", which will take place on Friday 11 November 2022 at 18.00, at the "Byzantino" Hotel in Patras. The event will be in Greek.
The DAISSy research group – HOU participates as a partner in the actions of the project User-friendly Practical Distance Active Training Experience – UPDATE [2021-1-IT01-KA220-VET-000032930], funded by the Erasmus+ programme of the European Commission. The UpDATE project (https://www.update-project.eu/), with a duration of 24 months, aims to strengthen and implement a digital ecosystem for vocational training by collecting and developing digital and technological solutions and enhancing the updating of digital skills of vocational education and training teachers and trainers. The overall objective of the project is to improve the quality of vocational training provided by VET organisations – with a view to increasing the learning opportunities, integration and training success of trainees, as well as their employability – by enhancing the capacities of trainers and instructors to implement blended and distance learning formats and to apply new technologies to vocational training activities with a high practical content.
The event is addressed to individuals and representatives of associations, institutions and bodies at local, national and European level. In particular, it is addressed to vocational education and training providers, apprenticeship advisors, vocational training teachers, decision-makers, researchers and education professionals.
Physical participation in the event is open to all. Participants who opt for online attendance will be connected via the Zoom platform. The event will be held in Greek.
Certificates of participation will be provided. For any information, please contact info@daissy.eap.gr
For more information:
Website: https://update-project.eu/ – http://daissy.eap.gr
Facebook: @update.project.22 – @DAISSyResearchGroup
LinkedIn: linkedin.com/in/daissyresearchgroup
Twitter: @daissy_research
Email: info@daissy.eap.gr