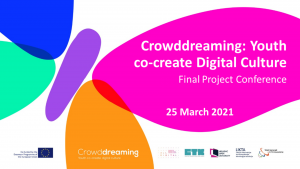 DAISSy Research Group of the Hellenic Open University (HOU), the Greek project partner of the project "Crowddreaming: Youth Co-Create Digital Culture", cordially invites you you to attend online the Final International Conference on 25 March 2021 at 14:00′-17:15′.
To register please click on this link by 23 March. A personal link will be sent to you closer to the event date with the access details to the event platform. This event will take place in English.
Cultural heritage was put in the spotlight in 2018 with European Year of Cultural Heritage that saw thousands of events and millions of people engaged across the European continent. But it didn't stop there. Successes from 2018 and new policy document (e.g. New European Agenda for Culture) have strengthened other dimensions of cultural policy and also cultural heritage.
Here our story begins. Crowddreaming: Youth Co-Create Digital Culture (CDDC) is an Erasmus+ project that started 2 years ago. We scaled up an Italian good practice and developed a methodology to use digital cultural heritage as a mean for inclusive education and the promotion of European values among youngsters.
The online event will present how more than 1600 students from Croatia, Greece, Italy and Latvia under the mentorship of 90 teachers and support by tutors dived into their local history and explored how it connects to other European nations. The results of their work is a digital monument Europa Square. It hosts more than 80 digital thankyou scenes created by youngsters. You will not only learn about the Crowddreaming methodology that enabled this but also explore the Europa Square yourself.
The Conference will also bring together representatives of policy makers and representatives of the civil society organisations who will discuss why we need a stronger collaboration between cultural and education sectors and how to ensure it. The tone of the event will be set by aspiring keynotes from two renowned experts in innovation in digital cultural heritage. More information about the speakers is available here.
Programme of the conference
14:00 – 14:15
Welcome and Introduction to the conference
Achilles Kameas, Chair of the Board, ALL DIGITAL aisbl
14:15 – 14:45
Keynotes
Cultural heritage and innovation: What does the future bring?
Matevž Straus, ID20
Augmented reality, cultural heritage and education
Gunnar Liestøl, Professor, Dept. of Media & Communication, University of Oslo
14:45 – 15:00
Presentation of the CDDC policy recommendations
Borut Cink, CDDC project coordinator, ALL DIGITAL aisbl
15:00 – 16:00
Panel debate: Cultural heritage, education and digitalisation: What lies ahead?
– Hannes Heide, Member of the European Parliament
– Michael Teutsch, Head of unit for schools and Multilingualism, DG EAC, European Commission
– Marianna Marcucci, Co-Founder, Invasioni Digitali
– Brikena Xhomaqi, Director of Lifelong Learning Platform (LLLP)
Moderator: Altheo Valentini, General Director, EGINA Slrl
16:00 – 16:15
Coffee Break
16:15 – 16:45
Presentation of the project results and introduction to the Europa Square Platform
Paolo Russo, Secretary General, Stati Generali dell'Innovazione
16:45 – 17:15
Europa Square experience
Virtual reality experience of the Europa Square
In the upcoming days, information will follow for the Greek national, also online, final event of the CDDC project, which is organised by DAISSy, in Greek. Both events are co-financed by the Erasmus + Programme of the European Union.
For more information on CDDC and DAISSy and its projects, you can visit/ contact us at:
For your registration to the Europa Square digital monument: https://crowddreaming.eu/europa-square-registration/.