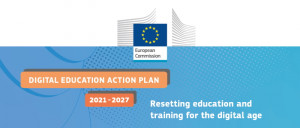 DG EAC of European Commission recently published the European Digital Education action Plan 2021-2027: Resetting education and training for the digital age. DEAP updates the 2018 Action Plan and is based on two priorities: (a) Fostering the development a high performing digital education ecosystem, and (b) Enhancing digital skills and competences for the digital transformation. Among the actions that will be supported in the context of the second priority is the introduction of a European Digital Skills Certificate. You can find the entire DEAP here.
The European network ALL DIGITAL, of which DAISSy is a member, has been leading the discussion at European level regarding a homogeneous European framework for the assessment, validation and certification of digital competences. To this end, ALL DIGITAL has recently established and is maintaining the Certification Community of Practice, an international community of organizations and individuals who have a strong interest in the certification of digital skills. Prof. Achilles Kameas, Director of DAISSy, is one of the moderators of this community.
The Certification CoP aims to produce a roadmap towards the European Digital Skills Certificate, as a result of inclusive and creative dialogue, always in the context set by the Digital Education Action Plan and for the benefit of European citizens. At the same time, the Certification CoP will identify the actions that must be funded in order to realize the roadmap.
Participation to the Cop is open to anyone who interested in the certification of digital competences. To join the community, please send an email to certificate@all-digital.org (write Certification CoP on the subject line).