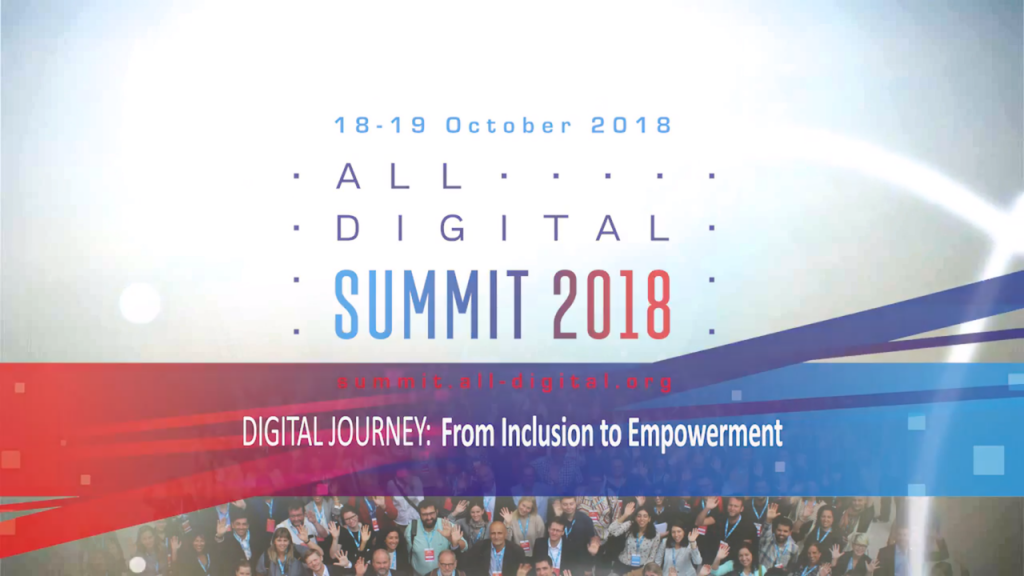 The 11th annual ALL DIGITAL Summit "Digital Journey: From Inclusion to Empowerment" will take place in Brussels on 18-19 October 2018. A very interesting programme has been put together by the organizers, including:
Four stimulating keynote lectures
A plenary session on "How can digital storytelling boost social inclusion?"
Five parallel interactive breakout sessions: Stops on a digital journey
Five parallel how-to workshops
A session on global citizenship education and media literacy and the role of digital technologies in teaching it
Stimulating projects lightning talks
In parallel, a Project Fair will give participants the opportunity to get in touch with the AD members and be informed of their projects and activities.
The ALL DIGITAL Annual Awards ceremony will be held in Brussels on the evening of 18 October 2018. The awards recognize AD members' excellence in the following categories:
Best e-facilitator
Best digital changemaker
Best cooperation project
Best digital resource
BRIGHTS Awards: Best digital story on global citizenship
Watch the video, learn more and register for the Summit to join 200 other delegates working to enhance digital skills across Europe.
How to workshops
The "How To" workshops will take place on Day 1 of the Summit. They are designed to give delegates a practical understanding of how to carry out a particular activity. Our speakers have experience that could help delegates to understand the pitfalls, practicalities and lessons they may have learned.
The DAISSy research group of Hellenic Open University is organizing two workshops:
#2. How to create a mini-MOOC
Bill Vassiliadis, DAISSY Research Group of Hellenic Open University
In this workshop, participants will design, develop and publish elements of their own mini-MOOC (short duration Massive Open Online Course). You will learn about current MOOC trends, design and development challenges and distance learning quality issues.
Hands-on activities will guide you through the various steps of:
MOOC-Analysis: identify and describe requirements, demands and constraints
MOOC-Design: conceptualise and design the MOOC including the basics of instructional and pedagogical design
MOOC-Implementation: implement a mini-MOOC draft using an on-line platform and finalize it through testing.
This workshop is suitable for all levels of experience with e-learning, whether your organisation already uses e-learning solutions or is just interested in how that might be possible. The range of case studies introduced will help participants see ways in which mini-MOOCs can be used in a range of contexts to promote learning and knowledge dissemination.
This workshop is supported by and is based on the experience of the BRIGHTS project.
#5. How to promote STEM education and training with Mobile and Internet of Things technologies
Achilles Kameas, Theodore Panagiotakopoulos, DAISSy research group, Hellenic Open University & Computer Technology Institute & Press "Diophantus"
Mobile technologies and the Internet of Things promise to revolutionize our everyday life. But are the citizens of our society prepared to reap the benefits of these technological and scientific advances? How can we facilitate digital transformation, so as to ensure inclusion in the forthcoming digital society?
STEM education offers a holistic educational approach that facilitates understanding of scientific knowledge and leads to the development of digital and 21st century skills. E-facilitators have to become STEM educators / trainers in order to play a key role in facilitating the digital transformation.
This workshop will offer a methodology for implementing STEM educational activities using UMI (Ubiquitous, Mobile, Internet of Things) technologies, together with tools and good practices. A holistic view of UMI technologies and their potential uses in closing the next generation digital gap will be presented. The UMI-Sci-Ed methodology will be introduced, together with examples from its application in different settings. Participation in the developing Communities of Practice activities will be offered using the UMI-Sci-Ed online collaboration platform.
The workshop will conclude with a discussion on prospective future collaborations in projects that would lead to the development of STEM education / training activities tailored to the needs of different groups of citizens.
This workshop is supported by the H2020 UMI-Sci-Ed project.