SONETOR
Info

Title Training of cultural mediators utilizing new Social Networking Software

Acronym SONETOR

Framework LifeLong Learning Programme – Leonardo da Vinci

Project Number 518736-LLP-1-2011-1-GR-LEONARDO-LMP

Start – End Date 01/02/2012 – 31/01/2014

Duration 24 months

Instrument / Type Multilateral Projects for Development of innovation

Funding Agency EU-EACEA

Total Project Funding 286 047€

Project Homepage http://www.sonetor-project.eu/

Cultural Mediation Platform http://www.culturalmediators.eu/

Status Completed
Description

The SONETOR project enhances Cultural Mediators' formal and non-formal skills and competences through the development of innovative training content, methods and procedures through Vocational Education and Training (VET). This project is the vehicle for improving knowledge competences and skills of any professional who formally or informally interacts with immigrants and for promoting innovation in vocational training of Cultural Mediators through the social networking training platform. The main outcomes of the project (job profile, training content and scenarios, social networking platform) are usable in such changing environments.
The SONETOR project has developed a training platform that integrates existing social networking applications with modern adult education methodologies and specially produced content and services, in order to assist Cultural Mediators in developing formal and non-formal skills and competences and in applying them during their work with immigrants.
The proposed project affects the current situation regarding cultural mediation as follows:
A European community of Cultural Mediators has been formed, ensuring the sustainability of project outcome
The skills and competences of Cultural Mediators have been systematically described for the first time; this description serves as the basis for the specification of real life-like training scenarios
The social networking training platform is continuously supported to serve as a European focal point for Cultural Mediators and other stakeholders.
Project Outcomes

The project has achieved the following concrete objectives:
A detailed comparative user needs analysis in the fields of legislation, training, collaboration and skills definition
A project portal serving as a focal communication point for European Cultural Mediators and other stakeholders.
Highly interactive, efficient digital content composed mainly of videos, but also containing text, wikis, forums etc.
Peer learning scenarios on topics related to the everyday practice of Cultural Mediators, such as Health, Education, Public services, etc
A European learning community of Cultural Mediators composed of representatives of all stakeholders.
Five pilot training sessions, one per participating country, with the participation of members of the learning community
Six evaluation reports, summarizing the project progress and evaluating its outcome
Five promotional workshops, one in each participating country, together with leaflets, brochures and a promotional project video
A final plenary workshop, organized in Greece, to promote the outcomes of the project and define exploitation and sustainability policies.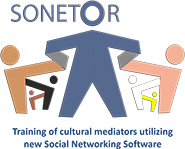 Other
Contact
Parodos Aristotelous 18, 26 335, Patras, Greece
Tags

LifeLong Learning
Cultural Mediators
ICT
Intercultural Learning
Open and Distance Learning
Social Dialog
Social Networking platform