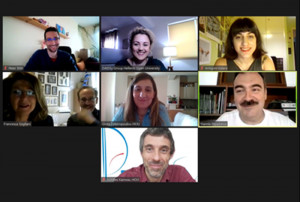 The DELTA project consortium participated in the fourth transnational meeting of the project. Due to the COVID-19 pandemic, the meeting initially scheduled to take place in Athens, Greece but finally took place online, on Tuesday 4th and Wednesday 5th May 2021.
The DELTA project – Digital Excavation through Learning and Training in Archaeology, is funded under the program Erasmus + / KA2 / Strategic Partnerships for Higher Education. The project is coordinated by the DAISSy research group of the Hellenic Open University (EAP). The project is implemented by a consortium of four partners – Universities from three countries (Greece, Italy and Czech Republic).
The meeting started with an overview of the project and its progress by Achilles Kameas, Head of the DAISSy Research Group, Hellenic Open University. The actions that will take place in Intellectual Output I (IO1) were then analyzed, such as presentation of the developed Module 1 material (Masaryk University), the status of Module 2 (NKUA), the status of Module 3 (UNIBAS) and the status of Module 4 (HOU). The University of Basilicata (UNIBAS) presented the results of the selected applicants derived by the application online form, which closed on the 2nd May 2021.  The e-learning platform opens on the 10th May 2021 with Module 1 and all partners will assign two people as Tutors in the Platform. HOU will provide the monitoring and technical support throughout the blended course, to both Tutors and Students in platform.
Also, Masaryk University presented the content of the DELTA Teaching Handbook (IO1/A3) and the Policy recommendations structure (IO1/A5). The first day of the meeting ended with NKUA who showed a list of questions that constitute the evaluation forms of the blended course material (IO1/A4) in Platform.
The second day of the web meeting included equally important presentations, regarding the pending issues of the DELTA platform for the provision of the training program under Intellectual Output II (IO2) as well as the communication, dissemination policy for the more effective dissemination of the project results and deliverables (HOU). University of Basilicata (UNIBAS) presented an indicative detailed programme for the 5 days learning and training [ISP] for the 15 selected students and the 3 trainers, coming from the partner countries that will travel and collaborate in the joint excavation at Μarathon, Greece. The ISP programme is designed by UNIBAS and NKUA will be the host partner of the excavation.
The fourth meeting closed with the presentation of the time –plan and the financial issues by HOU, for the smoother implementation of the DELTA project.