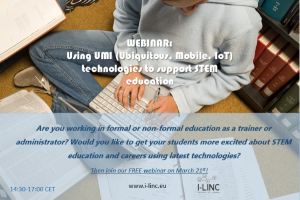 Are you working in formal or non-formal education as a trainer or administrator?
Would you like to get your students more excited about STEM education and careers using latest technologies?
Then join our FREE webinar on 21 March 2018!
Register here!
Ubiquitous technologies are all around us, thanks to them services are in place but invisible. Mobile technologies enable us to use ubiquitous services "on the move". Thanks to Internet of Thingstechnology and thus services are present in everyday objects. Therefore, UMI technologies, as a whole, support the implementation and use of "smart" environments (closed or open, static or on the move). These are technologies that will shortly be present in many aspects of our personal and professional lives. Overall, UMI technologies can be easily accessible and provide career opportunities to everyone who receives appropriate education and training.
Therefore, UMI technologies constitute a business opportunity to organizations offering formal and non-formal education and training to citizens independent of age.
The application of UMI technologies in education and training can be fun and engaging, it fits multi-disciplinary projects, triggers different competences and skills and motivates differently oriented people, even those that would otherwise not be interested in technology. Young people can build interactive objects and get naturally excited about STEM and technology. Young professionals can plan and pursue rewarding careers in novel and highly challenging subjects in almost every sector. Experienced professionals can pursue a career improvement or change, by enhancing the qualifications they already possess with cutting-edge ICT skills.
The aim of the workshop is to introduce the participants to UMI (Ubiquitous, Mobile, Internet of Things) technologies and their potential use in STEM education. The workshop addresses the needs of teachers and trainers, managers of training organizations, as well as educational policy makers.
The workshop will present the outcomes of H2020 project UMI-Sci-Ed (Exploiting Ubiquitous Computing, Mobile Computing and the Internet of Things to promote Science Education), which aims at enhancing the attractiveness of science education and careers for young people by putting Ubiquitous and Mobile Computing and the Internet of Things (UMI) into practice towards enhancing STEM education. UMI-Sci-Ed aims to empower youngsters to think creatively, apply new knowledge in an effective way, become continuously competitive in a highly demanding working environment. Ubiquitous and mobile computing and IoT are used to support the stakeholders working in education – educational community (teaching institutions, students, professors, tutors, etc.) and industry (UMI companies, VET providers, publishers, etc.) – career consultants, educational authorities and policy makers. To this end, communities of practice (CoPs) are being formed in the UMI-Sci-Ed platform around UMI projects implemented at schools, including representatives of all necessary stakeholders.
Agenda:
Brief introduction (Iva Walterova, ALL DIGITAL)
Introduction to UMI (Ubiquitous, Mobile, IoT) technologies and presentation of project UMI-Sci-Ed (Achilles Kameas, CTI)
Using UMI technologies to support STEM education in the school educational practice (Spyros Papadakis, CTI)
The UMI-Sci-Ed online platform that supports STEM education and communities of practice (Olga Fragkou, CTI)
Presentation of a selected applied scenario (Kostas Delistavrou, CTI)
Discussion (Iva Walterova, ALL DIGITAL)
All the experts are on the team of the UMI (www.umi-sci-ed.eu) project.