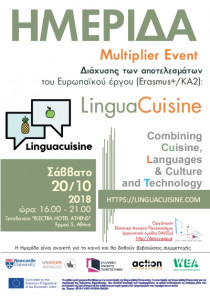 The Linguacuisine project promotes equality of access and participation in learning, with emphasis on the development of digital and linguistic skills. By using a combined educational methodology that promotes foreign language learning, digital literacy and intercultural communication through gastronomy, it helps social inclusion and prevents the exclusion, in particular, of people without or with few digital skills, while enhancing the creation of online digital communities with a common culinary interest. An online app for Android and iPhone has been developed as part of the project, which supports authoring and posting digital cooking recipes and, at the same time, learning six official EU languages. Participants in education via the online app receive a digital competence certificate based on the European standard DigComp 2.1.
The aim of the Workshop is to disseminate the results of the project to the general public and to invite a discussion on the innovative use of digital technology in the learning process and the development of digital skills through creative activities.
Read the program and the poster of the Workshop!
For more information on the research work of DAISSy, please visit: http://daissy.eap.gr