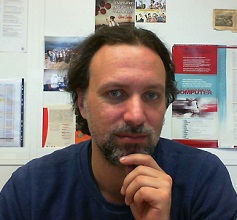 Ioannis Kalemis
Computer System Engineer
Ioannis Kalemis graduated in 1999 from the Department of Engineering / Computer at Patras University
Experience
01 June 1996 - 30 September 2001
Developer & System Administrator
ADVANCED INFORMATICS LTD
From 1996 to 2001 he worked in the company ADVANCED INFORMATICS LTD. where he took part in following European Projects that were generally focused on the implementation of real-time embedded systems and development methodologies and tools for controlling and monitoring and analysis of performance: EP-20899 OMI / ANTI-CRASH, EP-20576 OMI / TOOLS, EP-23920 OMI / SAFE.
01 October 2003 - 30 June 2011
Technical Manager
Computer Technology Institute (CTI)
From 2002 to 2011 he worked as Software Engineer in Research Unit 3 of I.T.Y.E. (Formerly RACTI). He has worked on projects: eGadgets, PLANTS, SOCIAL, Hearts, ASTRA and ATRACO. Specifically. From 2006 to 2011 was responsible for the technical group of the group DAISy/EM3.
Coordinator of Software Development @ eComet Lab
Hellenic Open University - eComet Lab
On March 2012 took charge of the coordination and supervision of (a) the implementation of software systems for the laboratory and (b) the technical and technological object subproject 5, entitled "Laboratory of Educational Material and Educational Methodology (EEFEM)" the Act "Greek Open University"
Besides the above was undertaken in collaboration with Smart Money S.A. designing and implementing a program for On-line portfolio valuation of «Advanced Portfolio Manager».
During his military service has implemented the program Flights 2002 to record flight on behalf of KE.AT / S.O.T.
In parallel he is  working on his graduate thesis at Systems Signal and Image Processing (SEAC) Master Program of the Engineering / Computer and Informatics, University of Patras, titled "Development of a middleware platform for mobile devices"
Research Interests
Ubiquitous computing, Pervasive computing,
Wireless Networks & Telecommunications
Real-time Systems (Real-Time Systems)
Interaction – Computer (Human-Computer Interaction), Interactive Interfaces (Interactive / Alternative Interfaces),
Image & Signal Processing (Signal / Image l Processing),
Parsers
Digital Content Delivery for educational material