DIVERSITY IN ADULT EDUCATION
Info

Title DIVERSITY IN ADULT EDUCATION

Acronym DIVINA EDU

Programme Erasmus +

Project Number 2016-1-ES01-KA204-025537

Start – End Date 31/12/2016 – 30/12/2018

Duration 24 months

Action Erasmus+/KA2/Cooperation for Innovation and the Exchange of Good Practices/ Strategic Partnerships for adult education

Funding Agency Spanish National Agency

Total Project Funding 113.382,00 €

Project Homepage http://diversityadultedu.eu/

Status Completed
Description
"DIVERSITY IN ADULT EDUCATION" (DIVINA EDU) project is an EU funded project under Erasmus+ strategic partnerships, aiming to provide specific skills and tools for adult education trainers and staff in order to manage diversity in adult education institutions. The project pursues the following objectives:
To raise awareness and provide information on diversity issues in adult education.
To promote the personal development of adult educators and other stakeholders in adult education.
To promote the creation of a safe and equitable learning environment in adult education that will facilitate individuals to take full advantage of the learning opportunities offered to them.
To prevent adult bullying and other forms of discrimination in education, thus promoting equity and social cohesion.
To build on accumulated experience and disseminate good practices, in order to further advance diversity management in adult education.
Project Outcomes
The project aims to achieve the following concrete outcomes:
Research report on diversity issues, bullying, and coping strategies in adult education for the identification of local needs and best practices.
Development of a training methodology and a course outline on diversity management in adult education.
New training modules for trainers and administrative staff will be developed, along with training material and an assessment methodology.
A training platform will be developed as a means to deliver the training and to facilitate networking and support of the learners.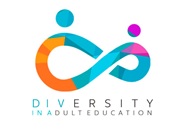 Publicity
Newsletters
Dissemination Material
Contact
Parodos Aristotelous 18, 26 335, Patras, Greece
Tags
Diversity
Adult education
training
admin staff
trainers