All Digital Academy: Upskilling adult educators on key digital emerging technologies

Info

Title All Digital Academy: Upskilling adult educators on key digital emerging technologies

Acronym ADA

Programme Erasmus+

Project Number 101049118

Start – End Date 01/04/2022 – 30/09/2024

Duration 30 months

Action ERASMUS-LS – ERASMUS-EDU-2021-PCOOP-ENGO

Funding Agency European Education and Culture Executive Agency

Total Project Funding € 400,000.00

Project Homepage https://alldigitalacademy.eu/

Status Ongoing
Description
ADA proposal wants to help adult educators, trainers and learning centres to deepen their understanding of emerging digital technologies and to be better prepared and constantly updated and upskilled for the ongoing digital transformation. In fact, ADA project aims at connecting and reinforcing learning centres and organisations which are focused on educating on digital competencies and facilitating digital transition through educational activities by engaging them within a digital environment where upskilling, exchange and change-making at international, national, and local level will take place. As a Cooperation Partnership project, ADA will support organisations in increasing the overall quality, relevance, and impact of their activities by upskilling their trainers and educators, providing contents, tools, and formats to be used and replicated at national and local level and through capacity building actions within the ADA Community of Practice on emerging technologies and related topics. Networking, operating internationally, promoting mutual exchanges, jointly promoting digital culture at local, national, and international level through discussion, policy actions and change making activities, exchange and developing new practices and methodologies are the core values within ADA that are translated into the project activities.
For these reasons, the main aim of the project is to support and empower adult learning centres across Europe, in the provision of basic digital skills and competences, specifically the knowledge and understanding of key emerging digital technologies, such as AI and IoT, and related issues, such as data literacy, privacy and protection. Both the ADA Community of Practice and the training resources (including the MOOC and webinars) aim at supporting the implementation of a joint strategy to introduce peer learning activities, exchange of best practices and experiences at European level to facilitate learning centres and organisations in cooperating for digital transformation processes.
Project Outcomes
The specific objectives of the project are to:
Upskilling adult educators working in the field of digital inclusion, through the provision of high quality online training on key emerging digital technologies and related issues.
Strengthening the capacity of adult-education organisations in informing and educating adult citizens on emerging digital technologies (opportunities and risks to be aware when interacting with services that use these technologies), through online formative and informative webinars, resources, tools, and recommendations.
Promoting transnational cooperation and exchange through the nurture of a Community of Practice as main hub for digital competence stakeholders from all sectors to connect and share information on DigComp and digitalisation as well as engage with EU activities on these topics.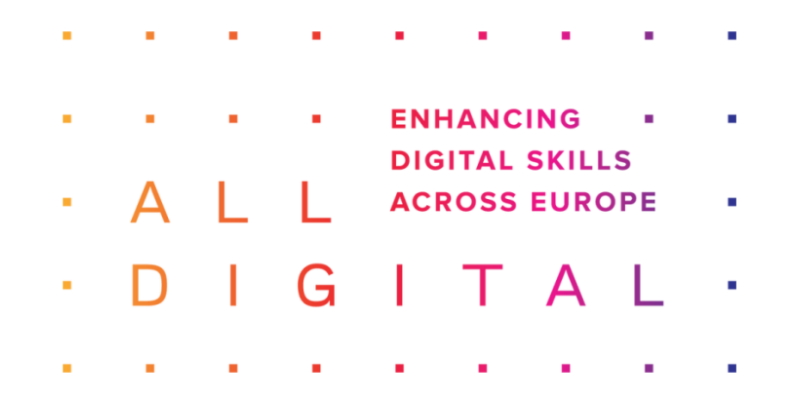 Publicity
Newsletters
Dissemination Material
Contact
Parodos Aristotelous 18, 26 335, Patras, Greece
Partners
ALL DIGITAL AISBL / Belgium
Hellenic Open University / Greece
University of Naples, Federico II / Italy
Tags