CDDC

Info

Title CrowdDreaming: youths co-create Digital Culture

Acronym CDDC

Programme Erasmus+ KA3: Support for Policy Reform and Online Linguistic Support Programme

Project Number 604517-EPP-1-2018-1-BE-EPPKA3-IPI-SOC-IN

Start – End Date 15/01/2019 – 14/04/2021

Duration 27 months

Action Social inclusion and common values: the contribution in the field of education, training and youth

Funding Agency Education, Audiovisual and Culture Executive Agency (EACEA), European Union

Total Project Funding €624,759

Project Homepage www.crowddreaming.eu

Status Completed
Description
"Crowddreaming: Youth co-create Digital Culture" (CDDC) project aims to disseminate and scale-up at European level a good practice in the field of the valorization of digital cultural heritage as a means for inclusive education and for the promotion of European values among youngsters.
The project scales up a best practice of the same name developed by Stati Generali dell'Innovazione (General States of Innovation, SGI). "Crowddreaming" was born as a contest for Italian schools, promoted by Stati Generali dell'Innovazione and the Digital Cultural Heritage, Arts and Humanities School. Its third edition took place in 2018. It aims to encourage the awareness to both teachers and young people about the epochal challenge upon which new generations are called, they will be the first in history to find themselves passing down a purely digital cultural heritage. The competition aims to raise awareness of the difficulties of this challenge and to stimulate the adoption of the new paradigms of thought required to operate in the digital dimension. Crowddreaming involves 5 partners coming from 5 European countries. The pilot action will be implemented in 4 Countries (Latvia, Croatia, Greece and Italy) and will directly address secondary school teachers (20 in each country) and students (400 in each country).
Project Outcomes
Based on a principle of content-based learning, each edition invites the participants to contribute to the construction of a digital monument, placing them on the challenge of generational transmission of digital cultural contents.
The project will develop a curriculum which will be piloted in Italy, Croatia, Latvia, and Greece. Trainers will be trained in the curriculum and will support teachers who will learn the course contents through MOOCs. At the end of the project a digital monument (Europea square) will be developed. The project aims to reach 400 secondary school students per piloting country, creating 20 digital scenes per country. The project platform, Europa square will host at least 80 digital scenes from the students across Europe.
Selected teachers will take part at the following activities:
co-design of a training path on Digital Cultural Heritage, taking part at two coaching circles in May 2019 and informing us on the most relevant skills they need to develop in order to involve their students in project based activities aimed at developing digital projects for the valorisation of their local heritage;
blended training course to learn how to implement the Crowddreaming methodology, consisting of:

35 hours interactive MOOC, carried out between January and March 2020, where you will have the chance to meet with other national and international colleagues, learning how to digitally enhance the value of local, regional and national cultural heritage as a mean to promote the European identity, common values, cultural dialogue and understanding.
Face-to-face workshop with students mentored by expert Crowddreamers, to be implemented between April and June 2020, for the collaborative production of digital projects on the valorisation of local cultural heritage.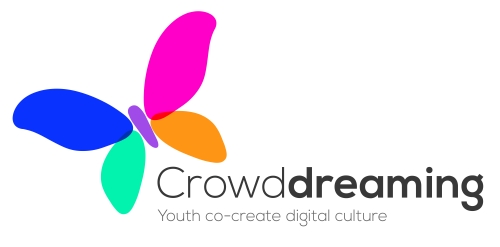 Publicity
Newsletters
Dissemination Material
Contact
Parodos Aristotelous 18, 26 335, Patras, Greece
Tags
crowddreaming
digital Cultural Heritage
digital culture