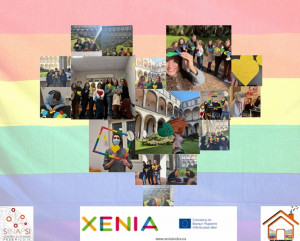 The 14th February Saint Valentine's Day, the day dedicated to lovers, is usually celebrated worlwide. For this celebration, the Anti-Discrimination and Culture of Differences Section of the Centre SInAPSi from the Federico II University (Italy) organised a social campaign to disseminate all the forms of love with photos taken by the students themselves. The love celebrated by the staff of the section, as well as the one celebrated by the students who took part in the social campaign, is love in all its forms, a love without any kind of stereotypes and prejudices.
Some of the photos can be found on the Section's Facebook and Instagram accounts, bulismoomofobico.it, or on the hashtag #esichestnunèamor
The involvement of the students was also a way of publicising the Xenia project. "Xenia: He Inclusiveness Index" is a project co-funded by the European Commission's Erasmus+ programme and involves a consortium of 7 partners from 5 European countries (Ireland, Italy, Greece, Slovenia and Spain). The project aims to promote the social and educational inclusion of sexual and gender minorities in European universities by developing and implementing an innovative index to measure the inclusion of sexual and gender minorities and provide tools for each university to improve its level of inclusion.
The "XENIA: Higher Education Inclusiveness Index" is three-year project, aiming at turning Higher Education Institutions (HEIs) into inclusive places that promote social dialogue irrespective of gender and sexual orientation and lower (potentially eliminate) organisational and operational barriers for equal opportunities. It is co-funded by the Erasmus+ Programme of the EU and it is implemented by a consortium of 7 partners from 5 countries, with DAISSy Research Group of the HOU, being the Greek partner, responsible for two workpackages and participating in all activities.
To stay up-to-date on the progress of the project, please visit our website: www.xeniaindex.eu.
For more information on XENIA and other DAISSy projects & activities: