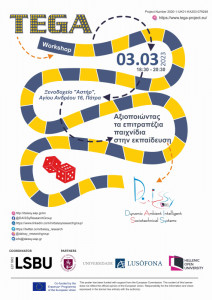 H ερευνητική ομάδα DAISSy του Ελληνικού Ανοικτού Πανεπιστημίου διοργανώνει ανοικτή ενημερωτική εκδήλωση και πρακτικό εργαστήριο LEGO® Serious Play, με θέμα:
"Αξιοποιώντας τα επιτραπέζια παιχνίδια στην εκπαίδευση"
Η εκδήλωση διοργανώνεται στο πλαίσιο του Ευρωπαϊκού έργου: TEGA – Training the Educators to Facilitate the Teaching and Assessment of the Abstract Syllabus by the use of Serious Games
Θα λάβει χώρα την Παρασκευή 03 Μαρτίου 2023 και ώρα 18:30 έως 20.30, στο ξενοδοχείο "Αστήρ", Αγίου Ανδρέου 16, Πάτρα. Aπευθύνεται σε κάθε ενδιαφερόμενο και κυρίως σε εκπαιδευτικούς όλων των βαθμίδων εκπαίδευσης.
Η συμμετοχή στην εκδήλωση είναι δωρεάν και θα δοθούν βεβαιώσεις συμμετοχής.
Μπορείτε να κάνετε προεγγραφή στην εκδήλωση μέσω της ηλεκτρονικής φόρμας. Η παρουσία σας θα μας τιμήσει ιδιαίτερα.
Για οποιαδήποτε πληροφορία, μπορείτε να απευθυνθείτε στους διοργανωτές στη διεύθυνση info@daissy.eap.gr & vicky.maratou@daissy.eap.gr