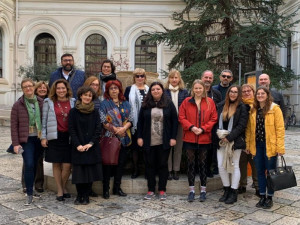 DAISSy Research Group of the Hellenic Open University participated in the Kick off Meeting of the three-year project "Boosting digital skills and competences of libraries in Europe". BIBLIO is co-funded by the Erasmus+ Programme of the European Union under Action KA2 – Cooperation for innovation and the exchange of good practices – Sector Skills Alliances, and its official launch took place in Bari (Italy) on January 27th and 28th.
BIBLIO aims to address the skills gap in the library sector due to digital transformation. The project has been created by the consortium of 10 partners from five countries (Belgium, Bulgaria, Greece, Italy, Latvia). The partnership includes sectoral organisations – national and international library networks and organisations; VET providers, a university and two European networks in digital skills and library professionals.
During meeting, the partners discussed various work packages and challenges, defined the priorities and set the action plan for the first year. On Day 1 the partners talked about the management and communication, prepared for the needs analysis research, got introduced to the coaching circle methodology and the good practices in mapping emerging job roles, based on the experience of MuSA project. The second day was devoted to the VET curricula, MOOC design and delivery, specialisation course for library professionals, and project dissemination activities.
DAISSy Research Group of the Hellenic Open University will participate in all project Work Packages by conducting the research, developing the MOOC, piloting BIBLIO activities in Greece and contributing to the project dissemination and exploitation activities.
For more information regarding BIBLIO project and/or more news of the DAISSy Research Group:
Facebook: @DAISSyResearchGroup, @DigitalBiblio
Website : http://daissy.eap.gr
Email : info@daissy.eap.gr