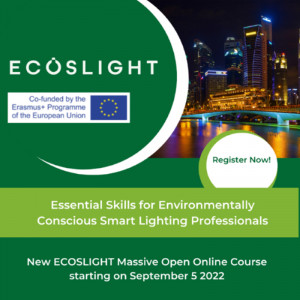 ECOSLIGHT consortium is happy to announce that the registration to its MOOC training program – Essential Skills for Environmentally Conscious Smart Lighting Professionals – is now open to all interested stakeholders! ECOSLIGHT is coordinated from the School of Applied Arts and Sustainable Design and the DAISSy research group of the Hellenic Open University.
MOOC, which is freely accessible by anyone, aims at supporting lighting and wider construction industry professionals, or aspiring ones, to improve their lighting, digital, green, entrepreneurial, and life competences. It will offer specific learning modules aimed at enhancing know-how and skills in the fields related to:
innovative, sustainable, and human-centric lighting systems and products,
digital technologies for co-creation processes,
entrepreneurial mindset and critical thinking.
ECOSLIGHT MOOC start date is 5th of September 2022, its duration is of 8 weeks. Additional information about the course can be found here.
Ready to enroll? Please complete the online registration form here.