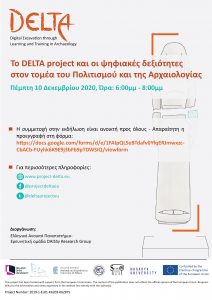 The DAISSy research group of the Hellenic Open University invites you to the first Greek online event, as coordinator within the DELTA project! The event will be organized and delivered online in Thursday 10th December 2020 from 18:00 to 20:00, through the MS Teams platform.
The Department of History and Archeology of the National and Kapodistrian University of Athens, participates also in the event, as the Greek partner of the DELTA project.
A necessary condition for attending the event is your registration in the Pre-registration Form (only in Greek)!
Participation in the event is open to all students, graduates as well as the scientific and teaching staff of the Departments of Archeology, Culture and Tourism in Greece.
Download the poster and the programme of the event
Language of the event is Greek.
Link e-form (in Greek)