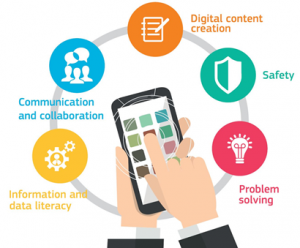 The European Digital Competence Framework, widely known as DigComp, has been developed by JRC to serve as a common referent for the description of the digital skills that are necessary for every citizen to be part of the digital transformation of European societies. The description of version 2.1 of DigComp is available here.
You can also read the "DigComp into Action: Get inspired, make it happen" Guide here. The Guide contains examples of DigComp application and includes two of DAISSy projects, DCDS and MuSA, as best practices.
The European network ALL DIGITAL, of which DAISSy is a member, is leading the maintenance of DigComp and the production of new versions, which will reflect more accurately the ever evolving IT technologies and their effects on the digital competence landscape. To this end, ALL DIGITAL has established and maintains the DigComp Commumity of Practice, an international community of organizations and individuals who use DigComp in their everyday practice. Prof. Achilles Kameas, Director of DAISSy, is one of the moderators of this community.
The DigComp CoP has already contributed to the design of DigComp 2.2, which is expected to go public in the Spring of 2021. Participation to the Cop is open to anyone who interested in digital competences. To join the community, please send an email to digcomp@all-digital.org (write DigComp CoP on the subject line).