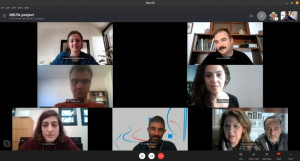 The DELTA project consortium participated in the third transnational meeting of the project. Due to the COVID-19 pandemic, the meeting scheduled to take place in Matera, Italy, finally took place online, on Thursday 5 and Friday 6 November 2020. The DELTA project – Digital Excavation through Learning and Training in Archaeology, is funded under the program Erasmus + / KA2 / Strategic Partnerships for Higher Education. The project is coordinated by the DAISSy research group of the Hellenic Open University (EAP). The project is implemented by a consortium of four partners – Universities from three countries (Greece, Italy, Czech Republic).
The meeting started with an overview of the project and the work that has started, is in progress or is expected to start in the near future, by the DAISSy Research Group, which was represented by A. Kameas, Professor of EAP and Scientific Coordinator of the project, P. Polymeropoulou, researcher and P. Zafeiropoulou, administrative.
The team of the National and Kapodistrian University of Athens (EKPA) presented the most important points of the original research that took place online by the project consortium in March 2020 in the form of a questionnaire distributed to archaeology students, University professors, researchers and professionals of the field of Culture and Archaeology, in Greece, Italy and the Czech Republic. The results of the research are available on the DELTA project website.
The actions that will take place in Intellectual Output I (IO1) were then analyzed, such as the validation of the methodology for the design and development of the DELTA educational program, which will combine mixed learning (online and face to face learning in class) with the joint excavation in Marathon, Attica. Also, Masaryk University presented the draft for the DELTA Teaching Handbook while the University of Basilicata (UNIBAS) the selection criteria of the trainees who will participate in the pilot test of the DELTA educational program. The partners presented, discussed in detail and finalized the design of the four basic learning modules that will be developed in the DELTA training course. These are:
Digital Tools for Archaeological Practice/Excavation
Documentation in situ and after excavation
Digital Preservation of cultural heritage monuments and artifacts (3d representation and reconstruction)
Open-Air Museums and Experimental Archaeology.
The first day of the meeting ended with the presentation of the managerial and financial issues by the DAISSy group of HOU in order to better monitor the implementation of the project.
The second day of the web meeting included equally important presentations by the Coordinator, regarding the design and development of the DELTA platform for the provision of the training program under Intellectual Output II (IO2) as well as the communication policy for the more effective dissemination of the project results and deliverables. The 3nd meeting closed with the presentation of the time -plan, which included deadlines per activity for the smoother implementation of the project.
For more information on the DELTA project and other initiatives of the DAISSy Research Group: