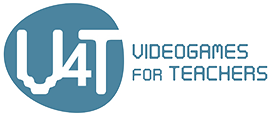 – Do you want to get informed about videogames and apps that are either educational or have strong educational potential? If yes, check the 120 records and corresponding reviews on the V4T online repository of videogames and mobile apps that has been developed in the context of the project.
– Are you a teacher or future teacher? Don't miss the opportunity to go through the V4T online manual in order to learn how to effectively implement videogames and apps with your students in classroom!
– Are you interested in learning how to create your own games or apps for, or with, your students? Stay tuned because soon we'll launch the V4T e-learning training package on main programming languages and authoring tools that are used to develop videogames, web games and apps!
The project is funded by the European Commission under the Erasmus+ Programme, Key Action 2 – Strategic Partnerships in Higher Education.
Project partners:
For more information about V4T visit the website of the project