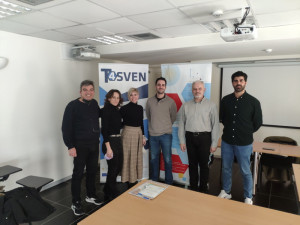 The DAISSy research group of Hellenic Open University (HOU) organized and hosted in Athens on 22nd and 23rd March 2022 the third partners meeting of the Erasmus+ project "T4SVEN – Training 4 Skills in the Digital Environment".
The aim of the project is the creation of a set of digital open resources based on digital pedagogy principles to equip VET teachers & trainers with competencies for integration of digital technologies with their content-matter expertise and thus enhance effective teaching, enrich the methods of VET delivery, including Work-based Learning (WBL).
This meeting was a great opportunity for resuming the past year and planning new activities!
This 2-days meeting was the opportunity to meet again all our partners and wrap up the first year of the project by reviewing, finalizing and validating:
Output 1 – Digital Framework
Output 2 – Digital Course Curricula
Year 1 Dissemination report
The Project Interim Report
We then dedicated a big part of the meeting to discussing and efficiently planning the implementation of the next project stages including the T4SVEN "Digital Platform", the "Virtual World" and the upcoming "Workshop on VR Training Scenario".
The meeting was faithful, all partners were actively participating in the discussions, and everyone has a clear idea of what needed to be done for the second year!
You can follow the development of the project on our project website as well as on LinkedIn, Twitter and Facebook.
Don't hesitate to contact us as well if you would like to participate in the implementation of the platform once it is ready.
Stay tuned for some important development that will be revealed pretty soon!