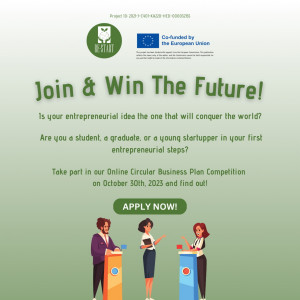 The DAISSy Research Group of the Hellenic Open University (HOU) announces the Circular Business Plan Competition, to be implemented through the RE-START – Reinforcing the Circular Economy Model for START-Ups  european project.
In this context, DAISSy-HOU invites students, graduates and young entrepreneurs with an innovative business idea in the sector of Circular Economy (CE), to participate in the competition, to be held online on 30th October 2023 at 16.00 (EEST).
More precisely:
The candidates are invited to submit their application form by 15th October 2023.
Participants will receive guidance in order to be thoroughly prepared for the competition.
Business consulting and mentoring, networking with investors and monetary prizes await the winning teams after the completion of the competition.
The RE-START is a two-year project co-funded by the European Commission's Erasmus+ programme, that aims at encouraging and guiding students in Higher Education Institutes (HEIs), recent graduates and potential startupers to develop a circular start-up or transform their business idea into a circular one following the definition of the circular start-ups which characterizes them as business models based on implementing at least one out of the five (5) CE strategies: Reduce, Reuse, Recycle, Recover and Regenerate.
The project is implemented by a consortium of six (6) partners representing five (5) European countries (Cyprus, Greece, Spain, Portugal, Portugal, Poland). The DAISSy Research Group of the Hellenic Open University, the Greek partner, participates in all deliverables of the RE-START project and is responsible for the development of the Circular Business Plan Toolkit.
For more information about the RE-START project and other activities of DAISSy-HOU: