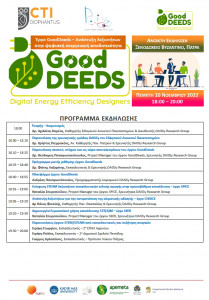 On Thursday, November 10 2022, from 18:00 to 20:00, the DAISSy research group of the Hellenic Open University, organizes the live event entitled "Skills development in digital energy efficiency" to disseminate the results of the Good Deeds (Digital Energy Efficiency Designers) project. The Good Deeds project is implemented by a consortium of 6 partners from 6 different European countries (Greece, Italy, Turkey, Romania, Portugal and Latvia) and has as its central purpose the development and testing of a methodology and a learning platform for Vocational Education and Training (VET) teachers and students, in order to promote a strategy of continuous and sustainable development of sectoral capabilities for digital energy efficiency.
Moreover, key projects in the field of STEM/STE(A)M education realized by the DAISSy research group will be described. In addition, teachers from primary and secondary education schools of Patra and Agrinio will present activities and emerging needs of STEM/STE(A)M education.
The event will be held at Byzantino hotel, Riga Feraiou Street. 106, Patras. Participation is free and certificates of participation will be given.
For more information for Good Deeds project and the DAISSy research team: