On the 24-26 April 2023, the DAISSy Research Group of the Hellenic Open University (HOU) organized a three sessions, transnational, online Training on video production and editing in the framework of the "GREELCO: Green Learning Community" European Union (EU) co-funded project. 
The trainees have been preschool teachers, Directors, and/ or counselors at Kindergartens from Romania, Belgium, Estonia, Slovenia, Serbia, Czechia, and North Macedonia. 
During the first session, the trainees were introduced to video editing and learned how to download a free editing program and how to prepare the footage for editing. 
On the second Training session, the participants had the opportunity to discover the editing workspace program and use its basic tools.  The main objective of this session was to understand and familiarize themselves with the workspace of the editing program and to use specific tools for the basic editing of a video, such as: importing footage, selecting clips, cutting, copying, pasting, resizing, etc.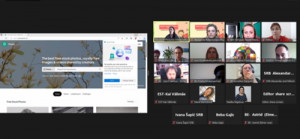 On the last day, the trainees exercised the basic editing tools and produced their own final video. Specifically, it was the participants' first attempt to create a video for setting the stage for a learning session using the basic editing tools to edit titles, subtitles and music, and to export a High Quality video for online use.
The DAISSy research group of the HOU is the project partner responsible for both providing constant technical support to the childcare centers regarding the preparation and the design of their virtual Study Visits' videos and for the technical design, development and piloting of the GREELCO educational platform. 
The GREELCO is a two-year, ERASMUS+/ KA220-HED co-funded project. Its consortium includes three (3) main partners, namely the: Educational Research Institute (ERI) (Slovenia), the International Step by Step Association (ISSA) (Netherlands), and the Hellenic Open University (Greece), as well as eight (8) Kindergartens, namely the: Elmer (Belgium), Kindergarten Šestajovice (Czech Republic), Tartu Lasteaed Pääsupesa (Estonia), Pitypangos Közösségért Alapítvány (Hungary), JUODG Femo Kulakov (Republic of North Macedonia), Granidita CU Program Prelungit nr.22 Botosani (Romania), Vrtec Bled (Slovenia),  Predskolska Ustanova "Cukarica"(Serbia). 
For more information on the GREELCO, and other projects and activities of the DAISSy Research Group: