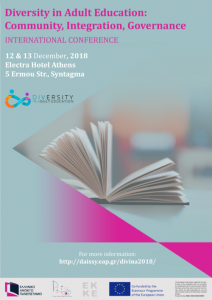 The DAISSy research group of Hellenic Open University (HOU) and the National Center for Social Research (EKKE) are organizing the International Conference "Diversity in Adult Education: Community, Integration, Governance". The conference will take place on Wednesday 12th and Thursday 13th December 2018, in Athens, at Electra Hotel (Ermou 5, Syntagma, 1st floor, Athena Hall).
The aim of the conference is to highlight approaches and practices relating to the wide range of adult education (formal and informal) and their association with the understanding and management of diversity. In addition, the conference is exploring the effects of this association on issues of social inclusion, community formation and governance.
The topic of the conference will be developed in relation to the following axes:
Diversity in Adult Education – Modern Prospects and Challenges
Diversity in the Community: policies and practices
Diversity in Society and Governance: Institutionally Innovative Policies and Local Initiatives
Working Life and Social Inclusion
The conference is addressed at educators, researchers and professionals related to education, immigrants, NGOs and voluntary organizations, public sector bodies as well as representatives of local government.
The conference marks the completion of the transnational European project "DIVINA-EDU: Diversity in Adult Education", which was implemented as a KA2 Strategic Partnership under the Erasmus + program coordinated by the Centro de Formación Somorrostro (Spain) and partners from four Member States EU (Spain, Italy, Greece, Portugal), including the DAISSy Research Group of HOU.
Participation to the conference is free of charge. Participants will be given an attendance certificate. Conference languages: English and Greek.
For more information about the conference visit http://daissy.eap.gr/divina2018/
For the DIVINA-EDU project you can find out at http://diversityadultedu.eu/
The activities of the DAISSy research team of the CRD are posted at http://daissy.eap.gr/en/