The DAISSy research group of the Hellenic Open University (HOU) announces the launch of the 2nd cycle of the implementation of the two Massive Open Online Courses (MOOCs) on the "Internet of Things (IoT)" and the "Artificial Intelligence (AI)" !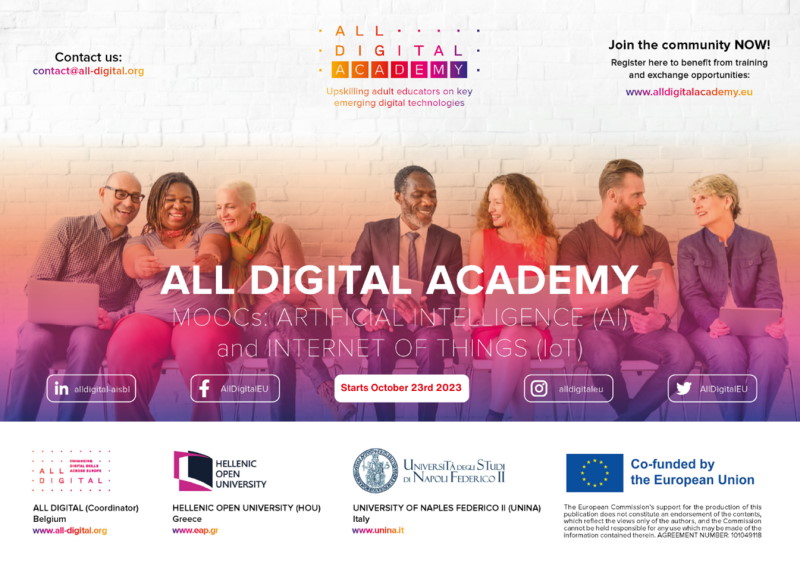 The two MOOCs were developed in the framework of the "ADA – All Digital Academy" European project, which aims at supporting adult educators and trainers by offering up-skilling training activities on emerging technologies, focusing on ΙοΤ and AI. The main purpose of the ADA project is to equip teachers and learning centers with fundamental knowledge and skills on the aforementioned technological fields. Empowering participants with the knowledge necessary to set up and deliver courses and learning experiences on AI and IoT for adult learners. The training activities are designed considering adult educators and trainers with limited or no knowledge on AI and IoT topics. 
Both ADA MOOCs start on 23rd Οctober 2023, end on 14th January 2024 and are offered in English.
Participation in free of charge and registration is available through the ADA educational platform, by filling the registration form [here]
Registration can be done to one or both MOOCs, if it is desired – there is no restriction.
Detailed information about the schedule and the content of the two MOOCs are available at the ADA project's website [here]
 The trainees that successfully complete the MOOC, based on the average of their module scores (i.e. average score equal or above 60%), will receive a certification of completion in accordance to the European and national qualification frameworks and the European credit system for vocational education.
The ADA project has a duration of thirty (30) months, is funded by the European framework ERASMUS+ and is implemented by a consortium of three (3) partners from three (3) European Union member-states (Greece, Belgium and Italy), with the DAISSy Research Group of the HOU, being the Greek partner participating in all project deliverables and being responsible for the development of the e-learning platform, the provision of the learning content design and production methodology, the development of the knowledge self-assessment tool and the production of content for the "Internet of Things" MOOC.
For more information on the ADA project, and other activities of DAISSy-HOU: