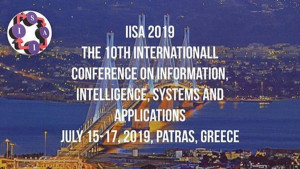 The Mu.SA project was presented in the 10th International Conference in Information, Intelligence, Systems and Applications (IISA2019) in the 15th of July 2019 at the University of Patras, Greece.
IISA-2019 is the tenth conference in the IISA series, technically co-sponsored by IEEE, the University of Piraeus, the University of Patras and the University of the Peloponnese.
The International Conference on Information, Intelligence, Systems and Applications (IISA) series offers a forum for the constructive interaction and prolific exchange of ideas among scientists and practitioners from different research fields such as computers, mathematics, physics, biology, medicine, chemistry, experimental psychology, social sciences, linguistics, and engineering; having the goal of developing methodologies and tools for the solution of complex problems in artificial intelligence, biology, neuroscience, security, monitoring, surveillance, healthcare, sustainability in energy sources, governance, education, commerce, automation, robotics, optimization, image, speech and natural languages, and their integration.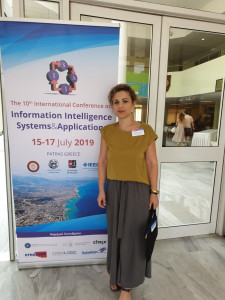 The paper entitled "Implementing a MOOC course for Museum Professionals with a worldwide effect" was presented by Mrs Panagiota Polymeropoulou, Researcher of the DAISSy Research Group of Hellenic Open University. The participants to the session "E-Learning Systems" were very interested to learn more about the Mu.SA project, the training program, the outcomes, the four role profiles as well as the results and the worldwide  participation to the MOOC "Essential Digital Skills for Museum Professionals". In the paper are described the Methodology for designing and developing the modular online course as well as the European Frameworks of e-CF and DigComp adapted to the museum sector's professionals knowledge and training. In the paper are presented also, in numbers and graphs the results of providing the MOOC, open to museum professionals participating from all the world. The paper will be published in the IEEE Xplore series.