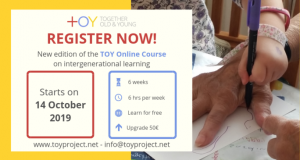 "The new edition of the TOY online course "Together Old and Young: An Intergenerational Approach" starts on 14 October 2019.
You will learn about intergenerational practice with young children (0 – 8 years old) and older adults (65+ years old) and you will discover practical ways to create opportunities for good quality and sustainable intergenerational learning activities.
The online course is free and is offered in English.
It consists of four weekly Modules containing videos, articles, discussion forums, quizzes and games. Each Module requires approximately 6 hours study.
On successful completion of the course you can upgrade your account at a cost of 50 Euro to receive the TOY Certificate of Achievement and have unlimited access to the course contents beyond the 6-week open period."