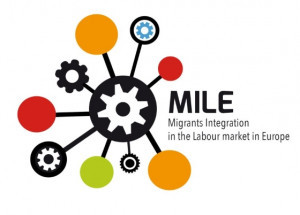 The Handbook is an easy-to-use tool for all employers and association of employers across Europe – including those who participated in the MILE capacity building – willing to gain more information and knowledge on how to promote diversity in their workplace and support the integration of migrants in their company.
The Capacity Building for Employers on the topics of economic integration of migrants and diversity in the workplace were carried out in Italy, Austria, Greece and Spain between October and December 2019, involving more than 40 employers,across all economic sectors and sizes.
To check out the Handbook, visit the MILE library: https://projectmile.eu/library
MILE Migrants Integration in the Labour market in Europe is a project funded by the European Union's Asylum, Migration and Integration Fund. The project is coordinated in Greece by DAISSy Research Group of the Hellenic Open University (HOU) and it is being implemented in cooperation with Olympic Training (OT).