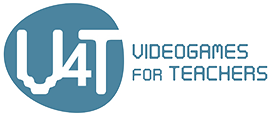 Project V4T (Videogames for Teachers) aims to promote the use of videogames and mobile apps as additional tools in the teaching process. The project aspires to provide teachers with the necessary skills and competences to integrate and use effectively videogames/apps in education.
A workshop on using videogames in teaching will be organized on September 3, 2018, from 18.30 to 20.00, in the context of the National Scientix Conference on STEM Education that will take place at the National Technical University of Athens (NTUA) premises in Zografou. The workshop is organized by the DAISSy research group of Hellenic Open University and is addressed mainly to teachers in primary and secondary education and educators in general.
During the workshop, the online repository of the videogames and mobile apps, that are most suitable for education, will be presented. For each game/application included in the repository, detailed assessment of its features and services and possible ways to use it with students, are included. Educators attending the workshop will be able to connect to the online repository and comment on any of the reviews they want by submitting their own personal experience or opinion.
Participation in the V4T workshop is free, but requires online registration to the Scientix conference at https://scientix.ellak.gr/. More information about the workshop can be found at https://scientix.ellak.gr/events/v4t-videogames-for-teachers/. Note that it would be useful to bring a laptop or smart phone.
The V4T project is funded by the European Commission under the Erasmus+ Program, Key Action 2 – Strategic Partnerships in Higher Education. For more information about the project, you can visit https://v4t.pixel-online.org/index.php or send an inquiry to the address info@daissy.eap.gr.