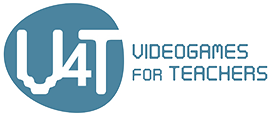 On October 31, 2019, the two-year European Erasmus+ project, V4T – Videogames for Teachers (No. 2017-1-ES01-KA203-038370), was completed. The Greek project partner was the DAISSy research group of Hellenic Open University.
The main goal of the project was to address the lack of "digital confidence" observed in a large number of teachers, by providing them with knowledge and enhancing their skills so that they could use videogames and mobile applications as learning tools.
To this end, within the context of the project, the consortium produced the following online intellectual outputs, all of which are freely available via the respective links:
1. An Online Database with 119 records of existing educational videogames and mobile applications, as well as commercial videogames and applications not designed for education but having a clear and strong educational potential. For each game or application the user will find a description and evaluation by expert researchers of the consortium, helpful comments and suggested scenarios for educational use.
Teachers can use the search engine to find the appropriate game or mobile application related to the learning object they want to teach.
The DAISSy research group recommended and evaluated 20 out of the repository's contents, translating into Greek their educational perspectives. Moreover, DAISSy invited teachers from Greece to visit the online database and provide comments on the contents.
2. The Online Manual for teachers and future teachers with information on how to effectively use videogames and mobile applications with their students. This manual consists of 14 chapters and is available in English, Spanish, Greek, Italian, German and Lithuanian. It has also been published as an e-book entitled "Videogames for Teachers: From research to action" by McGraw Hill Publishing.
Each chapter contains a theoretical framework with the required background on the topic of the chapter, five exemplary practical cases, two real case scenarios and an interactive self-assessment test.
DAISSy research group carried out the research and authored Chapter 6: Educational Videogames: An Overview and Chapter 7: Videogames as Educational Tools.
3. The e-Learning Package that provides teachers and future teachers with basic knowledge of simple programming languages and authoring tools in order to enable them to develop, either on their own or together with their students, educational digital games and educational mobile applications. The e-learning package consists of 3 Modules and is available in English, Spanish, Greek, Italian, German and Lithuanian.
Each module provides the basic theoretical background, references to additional online resources and web material (videos, manuals, etc.), practical exercises and activities for applying the theory to practice, as well as an interactive self-assessment test.
DAISSy research group contributed to the research and authoring of the 3rd Module entitled Programming and authoring tools for developing educational apps, which provides an overview of the technologies and tools available for mobile application development, detailing the App Inventor programming environment and the Augmented Reality web platform Metaverse.
The outputs of the project were presented to educators and university students of Departments of Education during info days held in all participating countries. In Greece, the info day organized by DAISSy research group brought together more than 70 stakeholders, mostly teachers, university students and school students.
More information about the project and its results can be found on the project website.