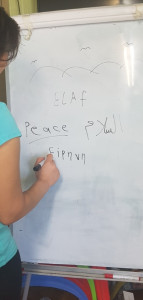 «Today I can say for sure that I should have started my lessons in Greek earlier»
Ilaf is 19 years old and since 2017, she has been living in Greece. She comes from Iraq and her native language is Sorani. In the end of 2016, she decided to leave Iraq with her family, being already married and pregnant on her first child. The undergoing war between two tribes at the area of her origin, as well as her pregnancy, were the main reasons that made her leave her country for Europe. Ilaf left Iraq with her husband and his own family (father, mother and sister), with the unique initial desire to be able to live in safety.
After several attempts, they arrived in Greece. In the meantime, Ilaf had given birth and her baby girl was already four months old. Since for the Greek authorities Ilaf was still a minor, they all initially stayed in a hosting camp in Orestiada. After she became an adult, they were all sent to the refugee camp, where they are settled nowdays. In the beginning, everything was difficult for her, in Greece. On her first walks around Athens and outside the refugee camp, she visited Omonia Square. The scenery and images, made her realize the need for herself and her family to integrate into the local community, in an attempt to make the future they dreamed of when leaving Iraq, come true. Starting Greek language courses was a first step towards this direction.
llaf said: "Today I can say for sure that I should have started my lessons in Greek earlier. However, even now, I'm glad that I was able to take part in your WEMIN lessons". Participating in the courses and starting learning Greek, made possible to have small talks with local people on everyday issues.
In addition, empowerment sessions have helped her to use the appropriate vocabulary depending on the various places and settings, like in a hospital or in services units. Now, she feels more comfortable when shopping in the market and even when visiting a doctor for her daughter. Being so pleased with her achieved progress, she says enthusiastically: "Βy learning the Greek language, I am happy to be able to show you that I appreciate what you have done for me. In fact, I urge all women who want to stay in Greece, no matter how busy they are, to make the decision to participate in Greek lessons. Their efforts will be rewarded". It is a fact that WEMIN interventions have helped Ilaf to regain her self-confidence, seek better living conditions for herself and her family, and most important, keep on dreaming! Her next goal has already been set: after WEMIN actions are completed, she plans to enroll in a hairdressing school so as, to become a hairdresser and work as such in the future.
Last but not least, a permanent and absolute priority for Ilaf is raising her daughter in the best way! As she explained, when a woman starts her own family in Iraq, her entire life is devoted in raising her children. Ilaf hopes to do well in both, accomplishing her daughter's upbringing and achieving her personal goals!
You can be informed about "WEMIN: Migrant Women Empowerment and Integration" implementation by visiting, www.wemin-project.eu / Follow #WEMIN